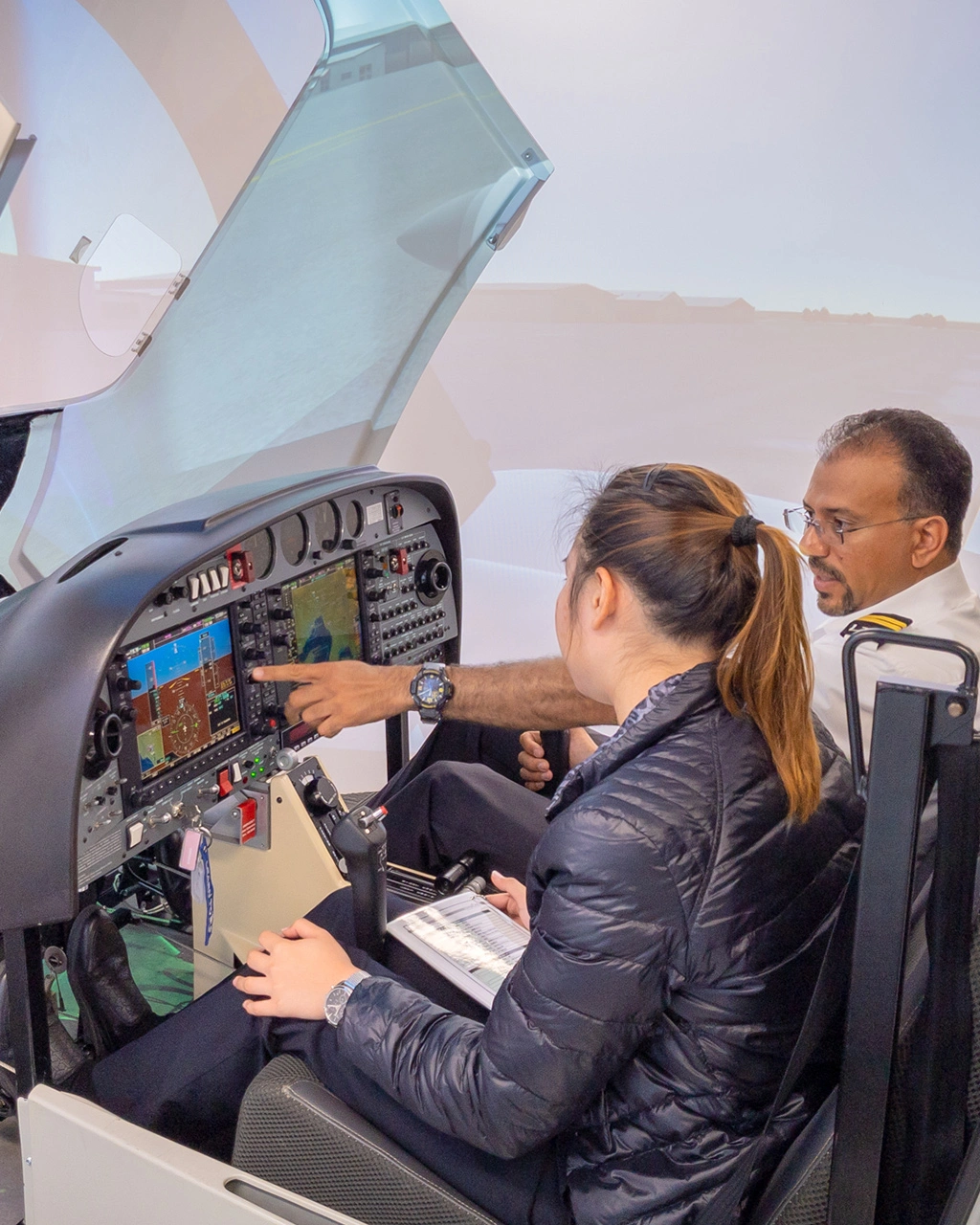 November 20, 2019
How Can Flight Simulators Advance Your Flight Training?
Thanks to advances in technology, flight simulators have become more and more realistic over time. What was once just a fun game for pilots and aviation fans to play on their computer is now an important tool. But exactly how much can flight simulators advance your flight training?
To find out, let's learn a bit about flight simulators first, thanks to Nat Crea from NatVIS Simulator Visual Systems. Nat does a great job calibrating simulators to make them as realistic as possible, and recently calibrated our TRC 472 full cockpit Cessna 172 simulator.
The History of Flight Simulators
The Link Trainer debuted in 1929, and is widely recognised as the first flight simulator. It resembled an overgrown toy aeroplane from the outside, with short wooden wings and a fuselage-mounted on a universal joint. Pumps, valves and bellows created a simulator for flight training that responded to the pilot's controls and gave an accurate reading on the included instruments.
The computer age then arrived, and as a result simulators became far more advanced very quickly. Arcade action style flying games were very popular immediately among games console and computer users at home. Civilian simulators were also popular, with users able to fly advanced jet airliners from their home computers by the early 2000s.
Back in the early days of the first basic flight simulators it was already very clear how valuable they could be to advance actual flight training for real pilots. Even the very first Link Trainer replicated the basic controls and instruments of an aircraft. Today, advances in computers and visual technology make a huge difference in the quality of training that flight simulators provide.
At first, the visual scenery was made only of single white points of light on an otherwise black landscape. Nowadays, simulator landscapes and weather are highly realistic outside the cockpit. Inside the cockpit, technology allows us to replicate almost any type of aircraft, as well as both computer or analogue control systems.
Types of Flight Simulators
There are 3 main types of simulators, and each have different specifications:
Aviation Training Device (ATD):
ATDs provide an approved training platform for both procedural and operational performance tasks specific to ground and flight training requirements for certain pilot licence types.
Flight Training Device (FTD):
This is a more advanced version of a simulator. There are 4 different FTD levels, each with their own requirements for approval. Each level has a different amount of aerodynamic programming, systems modelling, and other technological specifications. Our TRC 472 (Cessna 172) and Alsim AL42 (Diamond DA42) simulators are examples of FTDs.
Full Flight Simulator (FFS):
This is the most advanced type of simulator available, and airlines commonly use them for training. All Full Flight Simulators require some type of motion system, and again there are 4 levels. The two highest levels (levels C and D) must have an outside-world field of view and cockpit sounds in addition to other motion and visual effects.
How Can You Use Flight Simulators to Advance Your Flight Training?
Technology now provides an exceptionally realistic representation of the cockpit, avionics, flight conditions, and also aircraft behaviour.
Flight simulators can advance your flight training exponentially, by allowing you to practice non-standard flight situations under realistic conditions. If adverse weather keeps you on the ground, you can still use a simulator to complete flight training.
Given how expensive flight training is, simulators also offer an extremely economical way to hone your skills. If you are able to spend more time learning your skills in a simulator, then you can use your time in a real aircraft to put those skills into practice.
Learn To Fly's Flight Simulators
We have a range of flight simulator options, and these can assist with all levels of your flight training:
Fully Immersive XPlane Simulator
Our fully immersive XPlane simulator setup includes TQ6 PLUS throttle controls with reverse, feather and cutoff functions as well as Hall Effect Ruddo PLUS rudder pedals with pressure-sensitive differential brake controls, both from Virtual-Fly. You can also utilise glass cockpit avionics including the Garmin G5 instrument display and G430 navigational display from RealSim Gear.
TRC 372 (Cessna 172) Simulator
Our TRC flight simulator provides an almost exact reproduction of the Cessna 172 Skyhawk cockpit. Every detail is precisely reproduced to exact dimensions. This includes the doors, windshield, seats and also the Garmin G1000 glass cockpit panel.
Alsim AL42 (Diamond DA42) Simulator
The Alsim AL42 is a hi-tech super-realistic flight simulator that directly replicates the cockpit and controls of the Diamond DA42 twin-engine aircraft. This simulator complies with MECIR requirements and therefore enables students to become familiar with the aircraft behaviour patterns, procedures and systems whilst still on the ground.
Flight Experience Boeing B737 Simulator
Students can train on state-of-the-art Boeing 737-800 Full Flight Simulators, thanks to Flight Experience. These simulators are used world-wide for pilot training, and provide a fully immersive FFS experience. They are both certified and endorsed by Boeing.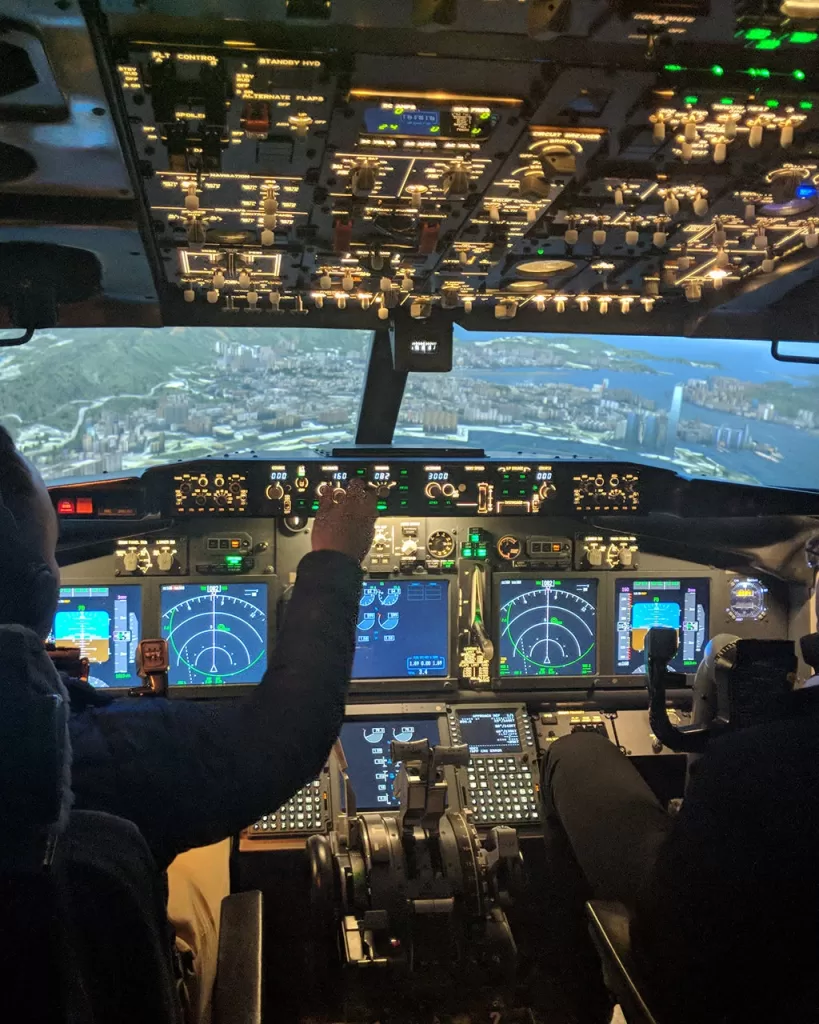 Contact [email protected] or visit https://drift.me/learntofly/meeting to book a meeting and school tour.