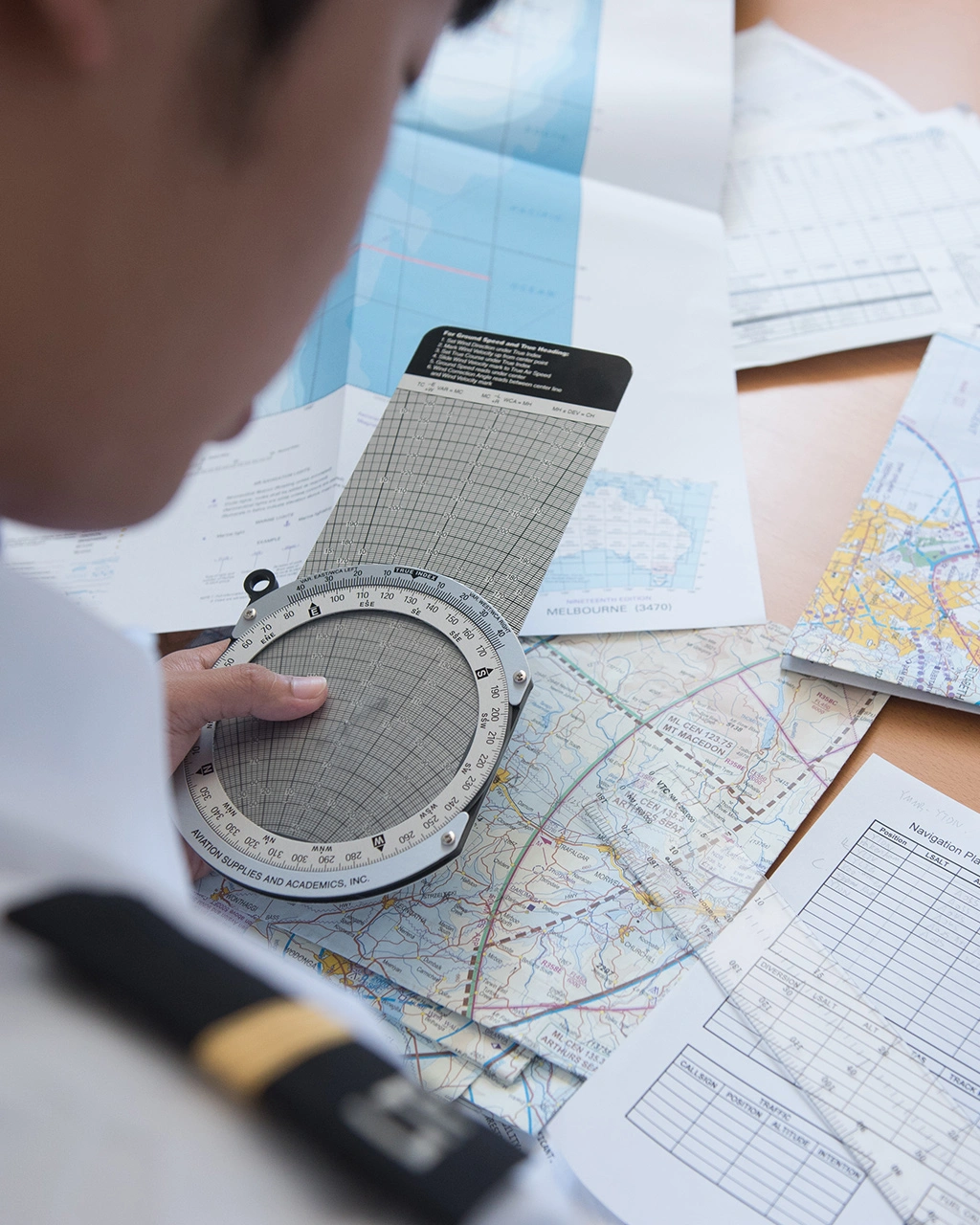 July 12, 2019
Basic Pilot Navigation Skills – PPL Training
If you have already learnt the fundamentals of flying and are hoping to obtain your Private Pilot Licence (PPL) or even a Cross Country Endorsement (for RA-Aus RPC holders), then learning basic pilot navigation skills is the next thing on your agenda.
The majority of the PPL syllabus centres around navigation, and you will learn both basic techniques and advanced skills to allow you to conduct flights to and from anywhere in Australia.
Whilst technology has provided us with incredibly powerful tools to assist with navigating in an aircraft, learning and understanding the principles is still extremely important for any pilot.
The Fundamentals of Navigating an Aircraft
Since there are no roads in the sky, navigating from Point A to Point B can potentially be a lot more difficult in the air to what it is on the ground.
The concepts of using maps, a compass, and landmarks or geographical features as navigational tools have been around since well before the first flight ever happened – but they are still central to navigating an aircraft today.
Maps and Charts
Student pilots learn about the different types of maps that exist, what aviation-specific maps and tools are available, and how to use them correctly. They will also need to have a detailed understanding of the terminology, symbols and scales used in aviation maps and charts.
Some of the maps and charts used for navigating an aircraft include:
– Visual Terminal Charts (VTC)
– Visual Navigation Charts (VNC)
– World Aeronautical Charts (WAC)
– Jeppesen Airways Manual Low Altitude Charts
– Jeppesen Low-Altitude En-Route Charts and Area Charts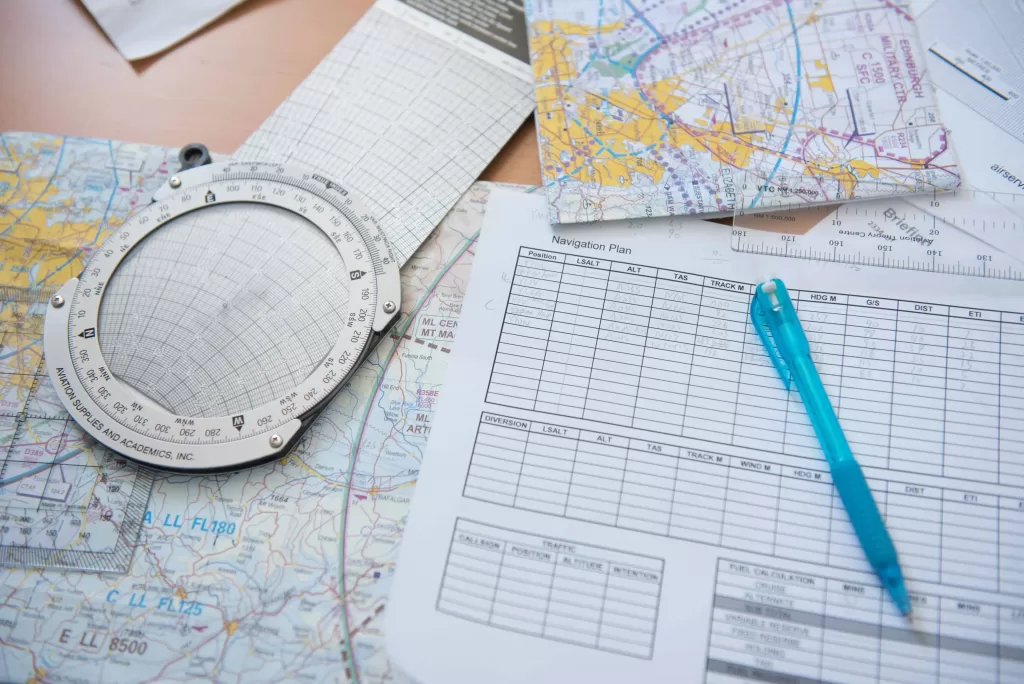 The Earth, Positioning, Distance, Direction and Time
The concepts for the most basic pilot navigation skills come from understanding the shape of the Earth, and how location positioning conventions have been applied to it. Student pilots will learn how co-ordinates for a specific point are determined, and look at key features including:
– Latitude and longitude
– The Poles
– The Equator
– Cardinal Points
– Great Circles and Rhumb Lines
– Time (Including Coordinated Universal Time UTC)
Understanding Velocity
The concepts relating to velocity and its effects on navigating an aircraft is sometimes referred to as the "Velocity Triangle". Basically, this compares the direction and speed properties of a moving aircraft to the direction and speed properties of the wind to determine the effects on an aircraft's track, and end destination.
To understand these concepts and perfect navigation solutions to the problems they pose, students learn about:
Speed & Velocity
Heading and bearing
Track and Track Made Good (TMG)
Vectors
Indicated, calibrated and rectified airspeed
Plotting
Using Navigation Computers
Flight Planning
The next phase of basic pilot navigation skills involves applying the previously learnt concepts to the planning of flights, which include a number of waypoints or stops. Additional factors are included at this stage such as:
Airspace classes
Fuel planning
Altitudes
Weather forecasts
There's a lot to take in when you are learning how to fly, and sometimes the most simple of advice can help to make your flying safer and more enjoyable. So, here are some pilot flying tips from our experienced LTF flight instructor team!
Practical navigation exercises
Of course the most fun part of learning basic pilot navigation skills is putting them into practical use!
Integrated PPL syllabus will combine theory and practical flying as you go, gradually building to more complex navigational flight exercises as more concepts are learnt and grasped.
Many of the concepts and calculations that student pilots learn relating to navigation can nowadays be effectively managed or guided by computerised avionics. At Learn To Fly, we have fully analogue aircraft as well as aircraft with the latest Garmin G1000 technology.
We believe it's essential for a pilot to understand and be able to apply concepts without the aid of computers, but it is also important for them to learn what technology is available and how it can reduce the potential for human factor errors.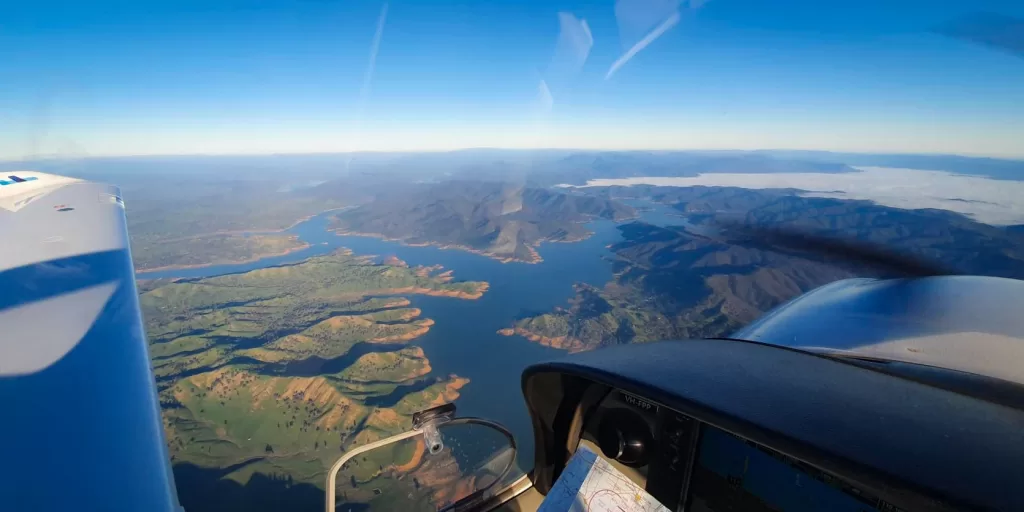 You can get more pilot flying tips by subscribing to our YouTube channel. We have RPL/PPL flying lessons, aircraft pre-flight check videos, and more. Click the button below to subscribe!
Chat to one of our flight training specialists to get your pilot training off the ground. Email [email protected]/en or go to https://drift.me/learntofly/meeting to book a meeting and school tour.